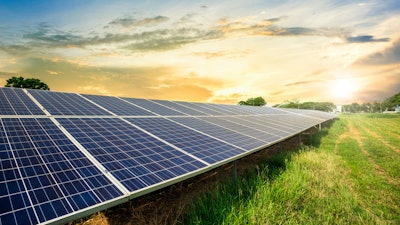 iStock
Through a new clean energy agreement with DTE Energy, Ford Motor Company will soon be able to attribute all its electricity supply in Michigan to clean energy.
As part of the new agreement announced today, DTE will add 650 megawatts of new solar energy capacity in Michigan for Ford by 2025. The purchase is a strategic investment in Michigan through DTE's MIGreenPower program and Ford said it's the largest renewable energy purchase ever made in the U.S. from a utility. According to data collected by the Solar Energy Industries Association, once installed, the arrays will increase the total amount of installed solar energy in Michigan by nearly 70%. 
Since 2009, DTE's investments in renewable energy have created more than 4,000 Michigan jobs. DTE estimates that the construction of the solar arrays will create 250 temporary jobs and 10 permanent jobs. Local communities that host DTE's renewable energy projects also benefit from the additional tax revenue these projects generate. This revenue can be used for community support services including roads, schools, libraries and first responders.
Ford is purchasing carbon-free electricity through DTE's MIGreenPower program, which is among the largest voluntary renewable energy programs in the country. To date, the company has more than 600 businesses enrolled in the program along with more than 62,000 residential customers. On an annual basis, MIGreenPower customers have enrolled 2.8 million megawatt hours of clean energy in the program, which has the environmental benefit equivalent to avoiding 2.2 million tons of carbon dioxide emissions. DTE is Michigan's largest producer of renewable energy and the company plans to add thousands of megawatts of new clean energy projects to support the program.