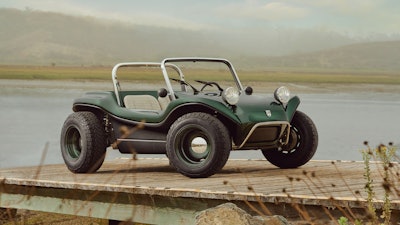 Business Wire
Meyers Manx unveiled the Manx 2.0 Electric on Monday, August 8, at a private event in Malibu, California ahead of its official debut at The Quail, A Motorsports Gathering.
The Meyers Manx was created in 1964 by Bruce Meyers as a dune buggy and in 1967 it went on to break the speed and time records for driving the distance of Baja and win the inaugural Mexican 1000 outright in the same year.
Venture capitalist Phillip Sarofim acquired the brand from Bruce and Winnie Meyers in 2020 through his firm Trousdale Ventures. He appointed auto designer Freeman Thomas to serve as the company's CEO and to design the Manx 2.0 Electric.
"The Meyers Manx has always been a symbol of joy, simplicity and purity. It's the solution to the complexity of life," said Sarofim, Chairman, Meyers Manx. "Continuing the legacy of the Meyers Manx connects us with the optimism of the 1960s California culture, an optimism we all can share."
Meyers Manx is partnering with a U.S.-based manufacturing entity to bring the Manx 2.0 Electric into production in 2023, with final assembly taking place in California. The Meyers Manx Beta program will deliver the first 50 cars to select customers in 2023. The launch vehicles will provide a unique engagement experience with the group of early adopters by providing feedback to the development team as they refine the production version.
"Knowing Bruce's artistry and Phillip's enthusiasm for the brand, I am so glad that Bruce trusted us to carry his legacy into the future. The new Manx 2.0 Electric is designed to exceed expectations. It's simple and endearing and taps into the spirit of playfulness. The ageless design brings out your inner child. It's about passion," said Thomas.
The Manx 2.0 Electric will be publicly unveiled at The Quail, A Motorsports Gathering at the Quail Lodge & Golf Club, in Carmel, California, on August 19.