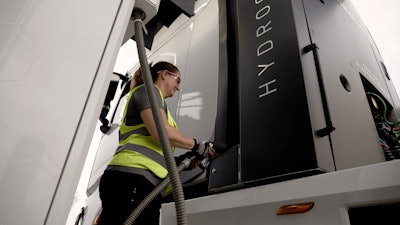 Nikola
Nikola Corporation today announced the locations of three California hydrogen stations to advance and scale up its long-term hydrogen distribution solutions to service market demand.
Nikola's integrated energy and zero-emissions truck portfolio will be underpinned by developing hydrogen supply and refueling infrastructure, an essential step in helping to decarbonize the heavy-duty transport sector.
The three California refueling stations and logistics infrastructure will be located in the cities of Colton, Ontario and a location servicing the Port of Long Beach. To further support truck demand, plans for additional stations are in progress and will be announced in the near future.
California is a launch market for Nikola and these stations will support key customers and advance the state's efforts to decarbonize the transport sector.
"This marks an important step in Nikola's ability to deliver innovative solutions and the infrastructure needed to decarbonize the transportation industry," said Pablo Koziner, president of Nikola Energy. "Our hydrogen refueling stations, along with a comprehensive energy supply, will provide customers the support needed to transition their fleets to zero-emissions."