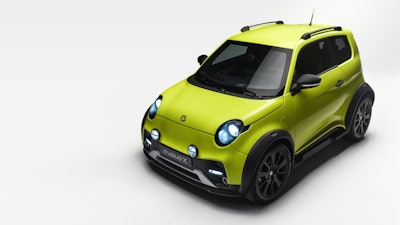 Next.e.GO
Next.e.GO Mobile SE, an urban electric vehicle manufacturer based in Germany, and Athena Consumer Acquisition Corp. reached a definitive agreement for a business combination that would result in e.GO becoming a publicly listed company on the New York Stock Exchange.
The transaction is anticipated to generate gross proceeds of up to approximately $285 million of cash which will be used to fund operations and growth. The pro forma implied enterprise value of the combined company is $913 million.
e.GO, headquartered in Aachen, Germany, develops, designs, manufactures and markets electric vehicles for the urban environment, focusing on convenience, practicality, ease of service and cost.
The company achieves considerably lower overall investment costs compared to traditional vehicle development and manufacturing methods by using its in-house manufacturing processes as well as its proprietary MicroFactory along with its IT architecture, which it said simplifies the production process and requires less capital spend per unit of output compared to traditional methods.
In 2018, e.GO constructed its first MicroFactory in Aachen, Germany, and developed its battery electric vehicle platform. The company subsequently began vehicle production in the second half of 2021.
To date, e.GO has put more than 1,000 of its vehicles on the road and is currently working to expand its geographic reach and production footprint. The company's second MicroFactory in Southeast Europe is expected to start construction before the end of this year. Each MicroFactory is capable of producing approximately 30,000 cars per year in a three-shift setting.