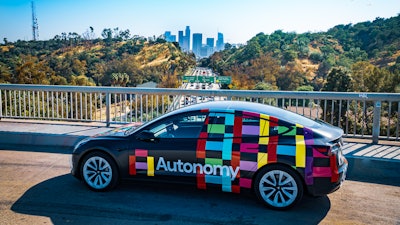 Autonomy
Autonomy, an electric vehicle subscription company, has partnered with AutoNation to expand its service nationwide.
The partnership will support Autonomy's electric vehicle product expansion from the Tesla Model 3 into several automaker brands as well as its geographic expansion across the United States, leveraging AutoNation's nationwide footprint. As Autonomy's "Dealer of Record," AutoNation will support Autonomy's planned acquisition, over the next 12-18 months of up to 20,000 electric vehicles from automakers that produce the most sought-after electric vehicles.
AutoNation will provide vehicle preparation and delivery services in connection with Autonomy customer activations, as well as maintenance, repair and reconditioning services for its growing fleet of subscription vehicles.
"AutoNation and Autonomy's shared vision for how consumers gain access to electric vehicles is the basis for this partnership and has again shown that AutoNation is among the most innovative and forward-thinking retailers in the world," said Scott Painter, founder and CEO of Autonomy. "This partnership allows Autonomy to drastically accelerate and diversify its vehicle lineup with a 20,000-vehicle order over the next 12-18 months while paving a clear and aggressive path for national expansion. Just as importantly, this also allows Autonomy to remain capital efficient and infrastructure light as we advance our mission to accelerate the adoption of EVs and scale subscriptions profitably."