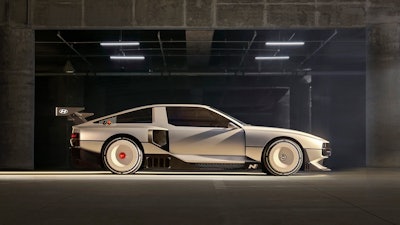 Hyundai
Hyundai Motor's N sub-brand revealed the RN22e and N Vision 74 as the latest examples of its electrification vision.
"RN22e and N Vision 74 play an important role in the strategic development of our entire product lineup, especially our electrified, high-performance vehicles," said Thomas Schemera, Executive Vice President and Head of Customer Experience Division at Hyundai Motor Company. "Rolling labs represent the continuous development of our most advanced technologies."
RN22e offers performance by refining and optimizing Hyundai's E-GMP and packaging it in an IONIQ 6-based streamliner design. As Hyundai N's first rolling lab based on E-GMP, RN22e shows the electrified N brand's vision and direction while opening the possibility of a high-performance EV model in the future.
The N Vision 74 is a high-performance hydrogen fuel cell hybrid rolling lab that's rooted in N's sustainable vision announced in 2015 and Hyundai's passion for high performance since 1974.
"N Vision 74's future-oriented design reflects the respect and appreciation we have for the dedication and passion that went into the Pony Coupe concept," said SangYup Lee, Executive Vice President and Head of Hyundai Design Center.