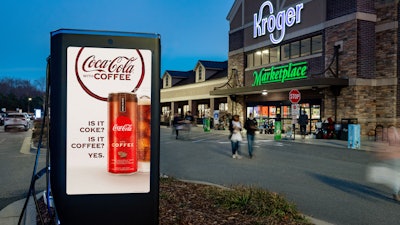 Volta
Volta, an electric vehicle (EV) charging network powering vehicles and commerce, announced it has collaborated with Kroger, one of America's largest grocery retailers, to bring a mix of DC Fast and Level 2 Volta charging stations to Kroger customers nationwide. Volta has launched at 16 Kroger locations in the Atlanta and Indianapolis areas and plans to expand to Columbus, Cincinnati, Louisville, Nashville, Michigan, and Southern California throughout the year.
Volta provides reliable public charging and with large-format digital screens located steps away from the entrances of commercial locations, Volta stations double as a media network. Volta's third-party measurement solutions enable the company to determine incremental sales lift and incremental return on ad spend (ROAS) at the store level for retailers and brands that run campaigns on the Volta network.
The collaboration enables Kroger to tap into Volta media inventory for its own advertising clients, expanding the power of the grocer's retail media network and simultaneously driving measurable business results and environmental impact.
"Volta continues to accelerate the switch to electric transportation by making charging as convenient, accessible, and affordable as possible. At the same time, we are unlocking new economic opportunities for brands and retailers — proving businesses can thrive while building a sustainable future that benefits us all," said Brandt Hastings, Chief Commercial Officer at Volta. "We look forward to working with Kroger to create new customer experiences and bring critical EV infrastructure to communities nationwide."
Enhancing customers access to electric vehicle charging is another milestone in the grocer's ongoing mission around sustainable retailing, underscoring its commitment to reducing their climate impact.