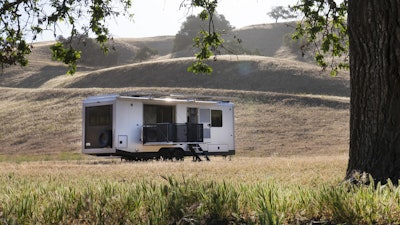 Living Vehicle
Living Vehicle, a luxury electric travel trailer, has announced its 2023 model, which it described as a traveling solar power plant capable of creating an endless water supply to allow its owners to remain off-grid longer than ever before.
The 2023 Living Vehicle is the first vehicle (trailer or otherwise) to produce its water with the Watergen water system that uses humidity in the air to create potable water. The INside system requires minor maintenance and provides up to 5 gallons of clean drinkable water per day.
The 2023 model also promises "luxe furnishings, gourmet appliances, seemingly endless storage space and spa-like bathing."
The Living Vehicle also includes a Creative Studio outfitted with Apple products including a Pro Display XDR, which features a 32-inch Retina 6K screen which can be powered by a 16-inch MacBook Pro with M1 Pro or M1 Max.
"The 2023 Living Vehicle breaks down barriers for nomadic homeowners. It is our most powerful trailer to date, thanks to our proprietary LVEnergy system. Being able to create our water from air is monumental and allows travelers not to be limited by the size of their water tanks while on the go," said Matthew Hofmann. "Conventional trailer design is fundamentally a short-term solution designed for recreation, which in the end, is why they are called recreational vehicles, or RVs. Nomadic Living Vehicle homeowners enjoy both form and function with the freedom to remain safe, healthy, and connected longer while exploring the best and most remote destinations in North America without ever having to plug into a campsite or fill up their water tanks."