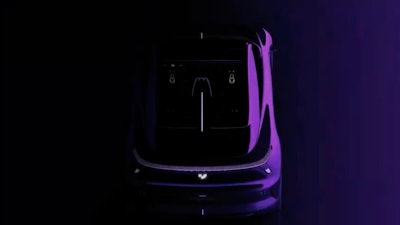 Jidu
Jidu, Baidu's electric car company that counts Geely as a strategic manufacturing partner, is getting ready to move its "Robocar" concept from the design phase to production.
The company is planning a "Roboday" brand launch event, where it will present the vehicle's "futuristic automotive robot design aesthetics, subversive user experience, industry ceiling-level AI technology and other product technical highlights" during a press conference on June 8.
In an accompanying video, Vidu provided a teaser for the vehicle along with some footage of the design and manufacturing process.
The latest stage in development for the electric Robocar, which will focus heavily on autonomous driving technology, comes after Jidu in January raised another $400 million in funding on top of its more than $300 million in startup capital. At the time, the company said it was planning for a mass-produced model of the vehicle to launch in 2023.
"With the support of cutting-edge AI technology combined with a high-quality vehicle platform and manufacturing process, JIDU's efficient development of automotive robot has been proven – the brain, nerve system, and body of the Robocar are all under rapid development. When the product is delivered (in 2023), it will be a benchmark-level product," said Jidu CEO Jiping Xia.