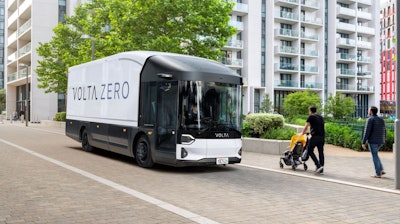 Volta Trucks
Volta Trucks has laid out its strategy for entry into the U.S. market.
The company said it aims to appoint an experienced US-based manufacturing partner in late 2022 and establish a pilot fleet of 100 trucks to be evaluated by U.S. customers, starting in Los Angeles in mid-2023, ahead of the start of U.S. production and scale-up in 2024/25. The company also intends to develop its own network of service and maintenance facilities alongside third-party coverage to maximize geographic reach.
The introduction of the company's 100% battery-electric commercial vehicles into North America will be led in 2023 by a Volta Zero Class 7 truck which is equivalent to the existing European 16-ton truck, with a dry or refrigerated cargo box. The Volta Zero is a medium-duty truck specifically designed for urban logistics. The ground-up design of the Volta Zero uses a compact eAxle, comprising the electric motor, transmission, and axle all in one unit, supplied by Michigan-based Meritor, and high-voltage batteries located within the chassis rails – their safest possible location – from California-based Proterra.
After the pilot fleet is introduced in Los Angeles in mid-2023, additional cities will follow ahead of a roll out of production vehicles in 2024. To date, Volta Trucks has built 24 road-going 'Design Verification' prototypes which are currently undergoing a testing program in Europe. Ahead of the introduction in North America, the company expects to have already built more than 1,500 full-electric Class 7 trucks for European customers.
"Since the launch of Volta Trucks in 2019 and the reveal of the Volta Zero in September 2020, we have used London, Paris, and other European launch cities, where fleets are increasingly converting to electric, to prove that our concepts align to customers' needs. With more than 6,000 vehicle pre-orders in hand, from some of Europe's largest fleet operators, it is time to expand our geographic horizons and look towards the significant market opportunity in North America. I believe our full-electric truck will be perfectly suited to the U.S. customer's needs, and we look forward to engaging customers to gain feedback on our product and services, then testing and learning as we look to exceed their expectations. I am looking forward to meeting some of North America's largest fleet customers and introducing them to our full-electric Class 7," said Carl-Magnus Norden, Founder of Volta Trucks.