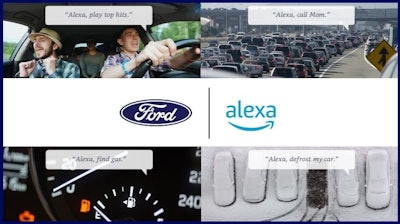 Ford
Ford and Lincoln customers with Amazon Alexa Built-in can now teach Alexa to perform vehicle functions based on their preferred phrasing thanks to new Car Control capabilities.
The company said it means customers can now tailor Alexa to their natural way of speaking, and personalize Alexa to suit their everyday vocabulary. For example, if they say, "Alexa, I'm cold," Alexa will ask what action should be taken, such as: "I can increase the temperature by 5 degrees or turn off the AC. What should I do?" Similarly, customers can teach Alexa personalized phrases to use with their familiar voice commands, such as, "Alexa, set the AC to full blast," or "Alexa, set the temperature to cozy."
This feature, which uses Alexa's teachable AI technology, adds to Ford's rollout of the Alexa Built-in hands-free experience that started with Ford and Lincoln offering complimentary access to Alexa features for up to three years.
"We are always working to improve the in-cabin experience, and core to that is making it easier for customers to naturally interact with Alexa," said John Scumniotales, GM and director for Amazon Smart Vehicles. "The enhanced Car Control features offer customers a new level of personalization—and demonstrating this functionality with Ford is an important step toward our vision of conversations with Alexa feeling as familiar as speaking with a family member or friend sitting in the passenger seat."
Starting next week, New York International Auto Show attendees will be able to visit the Ford stand to see enhanced Car Control demonstrations in the upcoming F-150 Lightning electric pickup. The Alexa experience will also be demonstrated in a Ford Expedition during public show days, April 15-24, 2022.
The demonstrations also will show how customers driving Ford or Lincoln vehicles can use Alexa to listen to music, navigate, control smart home devices, add items to a shopping list, and more.