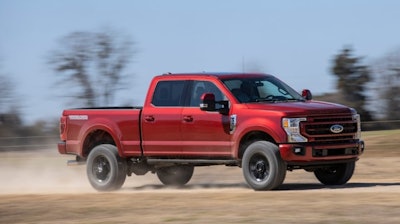 Ford
Ford said F-Series took in a new record 50,000 retail orders in March – up 38,000 over last year, while trucks turn at record rates on dealer lots. F-Series in-transit inventory expanded 127 percent over February and 66.1 percent over a year-ago. Ford's overall in-transit stock levels increased 73.5 percent compared to February, positioning Ford for spring sales growth.
Ford's overall truck sales grew 12.5 percent compared to February while the new Maverick posted its best one-month sales performance since introduction. Maverick sales increased 115 percent from February, while turning on dealer lots in four days.
Overall, March improvements in production and inventory begin to lift sales. Ford's retail sales were up 23.2 percent over February and SUVs were up 39.2 percent. Ford retail orders further expand over a year ago – achieving another new record. Ford dealers took in 88,000 orders in March – up 66,000 over a year-ago.
Ford said it also achieved record electrified vehicle sales year-to-date, expanding 37.9 percent. Ford's electrified vehicle conquest rate is growing and climbed to 51 percent – up 6 percentage points over last year.
"While the global semiconductor chip shortage continues to create challenges, we saw improvement in March sales, as in-transit inventory improved 74 percent over February. Our newest products continue to turn at a record pace, as Bronco, Bronco Sport, Mustang Mach-E and Maverick had their best combined sales performance yet, with 33,398 vehicles sold," sand Andrew Frick, vice president of Sales, Distribution & Trucks.