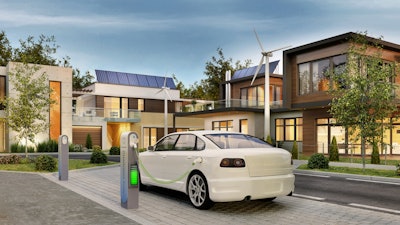 iStock
When electric vehicles first came onto the scene, it was an exciting new venture. People could see the benefits of moving in this direction, and there was enthusiasm and interest. But just because an industry creates buzz, this doesn't make it an instant success. It is certainly true for the market that is electric cars.
Today these vehicles finally seem to be making their way into the mainstream, with more and more manufacturers offering up new models for customers. The feature list has increased, the technology has evolved, and prices have come down somewhat, making electric cars more accessible than ever before. But will these vehicles stay on the current path? What exactly does the future hold for electric cars? Let's dig a little deeper into the industry and try to get a sense of where it's heading.
Electric Car Sales Have Jumped Significantly
The first indicator of the industry is heading in the sales figures. In the year 2020, global sales of electric cars increased, which is always a good sign. However, the increase in sales is more interesting and exciting because 2020 was the first time that sales in Europe surpassed sales in China. It shows how well electric cars are being received and that demand is spreading across the globe.
In Europe, registrations on electric cars came in at 1.4 million while China had 1.2 million. It's an interesting trend that many are watching and waiting to see if 2021 will repeat.
Manufacturers Have Taken Notice
Of course, this demand and interest in electric cars have caught the eye of major manufacturers. Their response has been to develop more models, giving consumers more options to choose from. In addition, these models have come in at different price points, again helping to make electric vehicles more universally appealing.
Some of the top manufacturers offering electric vehicle models right now include:
BMW
Audi
Cadillac
Ford
Tesla
Honda
Buick
Chevrolet
Bollinger
Lexus
Jaguar
Kia
Hyundai GMC
And this is just a small list of the manufacturers offering electric models. What this says to customers is that electric cars are no longer unique. They are the present and the future.
Governments are Working to Reduce Emissions
Then there is the fact that governments worldwide are working to reduce emissions in response to climate change. To make that happen, industries and manufacturers have to make pretty big changes. Look no further than the recent announcement from U.S. President Joe Biden to aim for 50% of all cars being electric by the year 2030. That's not far off, and there is much work to be done between now and then.
Biden went further with his announcement, proposing new federal fuel economy standards that would take effect in 2026 models.
The U.S. isn't alone in these announcements and goals, as many other countries call for the same measures and changes.
How Has COVID-19 Affected the Electric Vehicle Market?
Just as COVID-19 has negatively affected so many industries worldwide, the electric vehicle market has also been impacted. There has been a severe chip shortage (an important component in electric vehicles) that has affected companies globally and resulted in much lower manufacturing outputs than intended. Statistics show that car manufacturers alone could suffer a $61 billion loss in sales thanks to the chip shortage.
The only positive to this problem is that it is temporary. As the pandemic becomes more controlled and countries/markets open back up, the chip situation should stabilize.
New Technology and Features Will Capture, the Attention of Newbies
Right now, the electric vehicle market is still attracting a relatively small portion of consumers in terms of the total car-purchasing market. This means car manufacturers have to get more creative with their offerings and ensure they provide consumers with eye-catching models they can't turn down.
Consumers will likely be treated to a barrage of new designs, features and technology that will make these electric vehicles too good to pass up. And the more electric vehicles that pop up on the roads, more awareness will be created.
What About Charging Stations?
Owning a vehicle is all about having a convenient way to get around, but that also means you need to be able to fuel, and in this case, charge your vehicle with ease. The Biden administration has proposed charging stations as part of its infrastructure bill, giving drivers more stability and assurance on where they can charge up.
It Could Be an Exciting Field to Pursue
In terms of how the electric cars market and industry may affect people personally, it is shaping up to be an exciting career path to follow. A masters in computer engineering from a school like Kettering University could be what you need to launch your career. This program is designed for those looking to secure a future in automotive engineering, including such things as:
Mobile robotics
Electric vehicles
Autonomous vehicles
Dynamic systems
The U.S. Bureau of Labor Statistics shows a median pay of $103,390 in 2020 for electrical and electronics engineers. The field is also growing at the national average, so there are jobs to be found. To excel in this kind of career, you need more than just your masters, though, as a list of traits can help you be that much more successful. Some traits will come naturally, whereas others you can build upon and improve.
Ask yourself if these traits are ones that you possess:
Creative thinking skills
Communication skills
Mathematical/numerical skills
Critical thinking skills
Problem-solving skills
Organizational skills
A desire to ask questions, dig deeper and learn more
The future of electric cars is exciting and could be the perfect career path to take.
A Very Golden Future
So, if one were to guess what the future holds for electric cars, we'd say it is looking pretty golden right now. With so many companies embracing the technology and governments also encouraging the switch to electric vehicles, it seems clear they are here to stay.