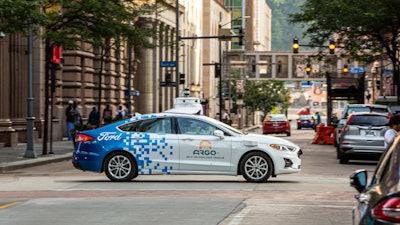 Argo AI
Ford and Volkswagen this week officially became equal partners in an autonomous driving firm in a deal that will see the automotive giants share vehicle development resources.
The German automaker announced its supervisory board's approval of the deal last week, and Ford executive John Lawler wrote in a blog post that the transaction was finalized on Monday.
Under the deal announced last summer, VW will invest $2.6 billion to become an equal partner in Argo AI, a Pittsburgh company formerly majority-owned by Ford.
The companies will share the costs of developing the firm's self-driving technology, as well as collaborate on several vehicle projects. Ford will develop an electric vehicle for the European market using VW's Modular Electric Toolkit platform, a midsize pickup that will also be adapted as a Volkswagen commercial vehicle, and a one-ton loader commercial van.
Volkswagen, meanwhile, will develop a city delivery van under the partnership.
A Ford official told the Detroit Free Press that the transaction's value included $1.6 billion to account for Volkswagen's self-driving division in Munich, which now joins Argo, along with $1 billion in VW funding.
"Because it can tap into both automakers' global reach, Argo AI's platform has the largest geographic deployment potential of any autonomous driving technology to date," Lawler, the CEO of Ford Autonomous Vehicles, wrote Tuesday.
Argo says it is currently testing its driverless cars on public roads in Pittsburgh, Detroit, Miami, Austin, Palo Alto, Calif., and Washington, D.C.