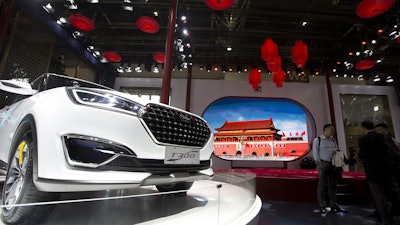 AP Photo/Ng Han Guan, File
The coronavirus pandemic has reportedly scuttled plans by a California company to introduce Chinese-designed cars to the U.S. market — for the time being.
HAAH Automotive Holdings, based in Irvine, Calif., had reached agreements with two Chinese automakers — Zotye and Chery — to bring their vehicles across the Pacific. HAAH hoped to import Zotye vehicles into the U.S. beginning this year, but the company's CEO told Automotive News that the outbreak hammered Zotye sales in its native China — and prompted the automaker to halt expansion plans until its finances are settled.
Instead, HAAH indicated it would refocus its efforts on Chery, whose chairman told Reuters this week that it would expand sales of its cars to the U.S. and European Union. Chery, which has a partnership with Jaguar Land Rover, announced plans in February to build and sell a midsize SUV under its Vantas brand in the U.S.
Chery has yet to select a site for a U.S. factory, according to CNET, but HAAH plans to allow dealers previously signed on to sell Zotye cars to sell Vantas vehicles. Once Zotye arrives in the U.S., those dealerships — reportedly in place in more than 100 markets — would be able to sell its cars at no additional cost.