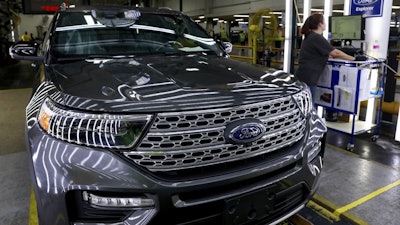 AP Photo/Amr Alfiky
Ford temporarily halted production at two assembly plants Tuesday and Wednesday after three workers tested positive for the novel coronavirus. The shutdowns show the difficulty that automakers and other businesses will have in trying to reopen factories in the midst of the pandemic.
On Wednesday, a worker at the pickup truck plant in Dearborn, Michigan, tested positive for COVID-19, Ford confirmed. Assembly lines that make the F-150 pickup truck were shut down while work areas were cleaned, and employees who came in contact with the worker were sent home for 14 days. Production was to resume Wednesday night.
On Tuesday, Ford temporarily closed its Chicago SUV factory twice after two workers tested positive. Production was halted to sanitize equipment.
In all three cases, Ford said the workers contracted COVID-19 outside the workplace.
The automaker resumed production of the Ford Explorer and Lincoln Aviator Wednesday morning, only to shut down again after running short of seats made at a Lear Corp. factory in nearby Hammond, Indiana. Lear confirmed that production was suspended after an employee told the company of a positive COVID-19 test.
Lear said it's disinfecting the plant and isolating affected workers following federal guidelines. Ford said its Chicago plant should be running again for Wednesday's evening shift.
The closures came just a day after Ford, General Motors and Fiat Chrysler restarted their U.S. factories after being shut down for about two months.