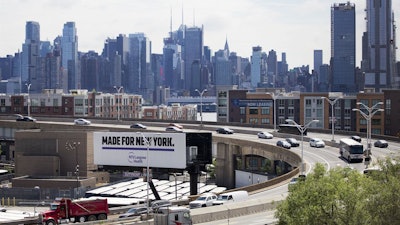 AP Photo/Mark Lennihan, File
WEEHAWKEN, N.J. (AP) — More buses may be able to travel between New Jersey and New York City through the Lincoln Tunnel with the help of autonomous technology.
The Port Authority of New York and New Jersey on Thursday approved spending $4.8 million to award contracts to two firms to test whether sensors and other technology can shorten the distance between buses and boost speed in the tunnel's exclusive bus lane. The lane handles 1,850 buses carrying more than 70,000 passengers each weekday between 6 a.m. and 10 a.m., the agency said.
Bus drivers would still be behind the wheel and could still control their vehicles.
"The Lincoln Tunnel's ëxclusive bus lane was a groundbreaking innovation when it first opened in 1971 and it remains a key element of the trans-Hudson transit network," said Port Authority chairman Kevin O'Toole. However, the demand now exceeds the bus capacity it can accommodate, O'Toole said.
Testing would begin off-site beginning next month and the technologies would eventually be demonstrated in the lane during early weekend hours on buses that are not carrying passengers. When the demonstration program ends in 2021, the agency will explore a pilot test of the best technology.