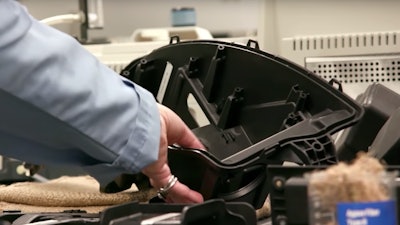 Ford Motor Co. (YouTube)
Ford says incorporating a coffee byproduct into a vehicle part resulted in a more sustainable and capable final product.
The automaker issued a video this week detailing how it converts coffee chaff from McDonald's suppliers into housing for its cars' headlights. Ford engineers combine the chaff — the husk of the coffee bean normally discarded after the roasting process — with plastic and other additives before melting it down and shaping it into the part.
Buckle up, grab your coffee, and see how we're teaming up with @McDonaldsCorp to drive #sustainability forward from an unlikely source. pic.twitter.com/kFomPKSRVc

— Ford Motor Company (@Ford) December 4, 2019
The housing must be able to withstand the extremely high temperatures of vehicle headlights, and Debbie Miewelski, Ford's senior technical leader of materials sustainability, said the chaff parts are lighter and have superior heat properties compared to the company's conventional housing, which is made from plastic and talc.
Ford officials told CNN the company began incorporating the reformulated parts to some vehicle models this year, and that it hopes to expand to more models and more components in the future.
"We don't want to put it on just one car line," Miewelski said in the video. "We start there, and we just do sustainability everywhere we can."