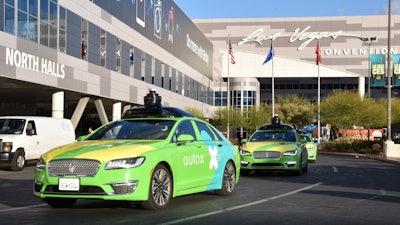 AutoX
A Chinese autonomous driving startup reportedly hopes to become the second company to test its cars in California without a human driver aboard.

Reuters reports that AutoX filed its application with state regulators after conducting tests of self-driving cars — with safety drivers behind the wheel — in San Jose. The report noted that AutoX has also tested its autonomous vehicles in Chinese cities.

The company, founded by former Princeton computer scientist Jianxiong Xiao in 2016, is backed in part by state-owned automaker Dongfeng and e-commerce giant Alibaba.

Of the dozens of companies to test self-driving cars in California with backup drivers, to date, only Google's Waymo has received approval for tests without drivers.

The report follows increased questions about the safety of testing self-driving vehicles, although federal investigators blamed a distracted safety driver in a fatal crash involving an Uber self-driving car in Arizona last year. Reuters also noted that Chinese tech companies are under increased scrutiny from federal regulators.

"After three years of efforts, we believe that we have a technology that can go in deep, and safe for the public," AutoX COO Jewel Li told Reuters.