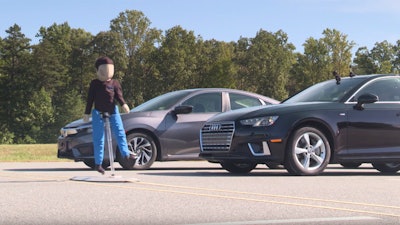 IIHS (YouTube)
A newly released study found a wide disparity between the various vehicle systems designed to prevent collisions with pedestrians.

The Insurance Institute for Highway Safety evaluated those systems on 16 midsize cars by running them through three daytime scenarios on a dry test course — and issued ratings based on whether they were able to avoid pedestrian dummies within one to two seconds.

One test simulated an adult stepping into path of a car at 12 miles per hour and 25 miles per hour, while another presented those same conditions with a child stepping out from between two parked cars. The third test, which simulated an adult walking on the side of the road, was conducted at 25 miles per hour and 37 miles per hour.



The insurance safety group said systems on the Audi A4, BMW 3 series, Mercedes-Benz C-Class, Volvo S60 and two non-luxury cars — the Nissan Maxima and Subaru Outback — earned "superior" ratings based on the rate at which they reduced speed.

Versions of the 3 series and Altima, along with the Honda Accord, Lexus ES 350, Mazda 6, Toyota Camry and Tesla Model 3 received "advanced ratings," while a version of the C-Class and the Chevrolet Malibu received "basic" ratings.

Models that earned no rating from IIHS for failing to slow down in multiple scenarios included the Ford Fusion, Hyundai Sonata and Kia Optima.

Despite the wide variation in performance, IIHS officials suggested the increased incorporation of those detection systems could help stem the rise in pedestrian fatalities over the past decade. The systems are standard on 12 of the 16 models used in the test — including on five of the six top performers.

"The child dashing out from behind parked cars is a very challenging test," IIHS President David Harkey said in a statement. "But it's fitting that it was one of the main things that separated the top systems from the rest of the pack, since that is certainly a frightening scenario on Halloween or any day."