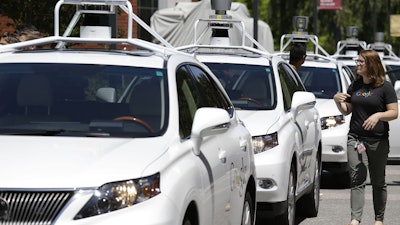 Eric Risberg, AP
Two of the world's largest automakers, along with a group of global auto suppliers and technology companies, hope collaboration will help address the significant obstacles standing in the way of fully self-driving vehicles.

The Autonomous Vehicle Computing Consortium debuted at British technology company Arm's TechCon event in Silicon Valley this week. General Motors and Toyota signed on as founding members of the group, which aims to build an ecosystem of innovation to resolve technical challenges across industries.

"We are delighted to join this group of key leaders in the automotive industry," Massimo Osella, a GM R&D official and the group's board chairman, said in the announcement. "As the AVCC, we are working together to create the 'go-to' organization for autonomous computing expertise to help bring this technology to market."

The group's first task will be to develop recommendations for a system architecture and common computing platform. The computing capabilities of autonomous driving, officials noted, will need to fit within the requirements of passenger vehicles, including their safety demands, temperature range, power consumption and size limits.

In addition to Arm, GM and Toyota, other initial AVCC members include suppliers Bosch, Continental and Denso and tech providers NVIDIA and NXP Semiconductors.