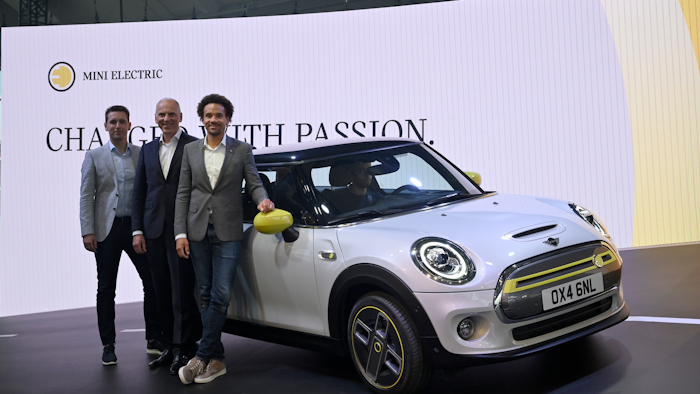 BMW Group
German auto giant BMW this week unveiled a fully electric version of the Mini Cooper from its U.K. subsidiary

The company said the Mini Cooper SE, the first all-electric premium small car, offers urban commuters a range of between 146 miles and 167 miles per charge. Officials said the car accelerates from zero to more than 60 miles an hour in 7.3 seconds and can be charged using household sockets or public EV charging stations.

BMW and Mini executives also said the model's iconic design and "typical go-kart feeling" remain in the electric version.

"Mini was founded on the idea to deliver a solution to the mobility challenges of its time," Bernd Koerber, the brand's senior vice president, said at the introductory press conference in the Netherlands. "We are committed to this idea and to ensure sustainable urban mobility for the future."

Although the driving technology would be produced at BMW facilities in Germany, the car itself will be assembled at the Mini plant in Oxford, England, despite ongoing worries about the U.K.'s departure from the European Union. The vehicles are expected to be delivered starting early next year; officials said more than 40,000 people already registered their interest in the electric Mini.

The debut followed BMW CEO Harald Krueger's announcement that he would step down next year after a tenure that saw the automaker's early lead in electric vehicles slip away.