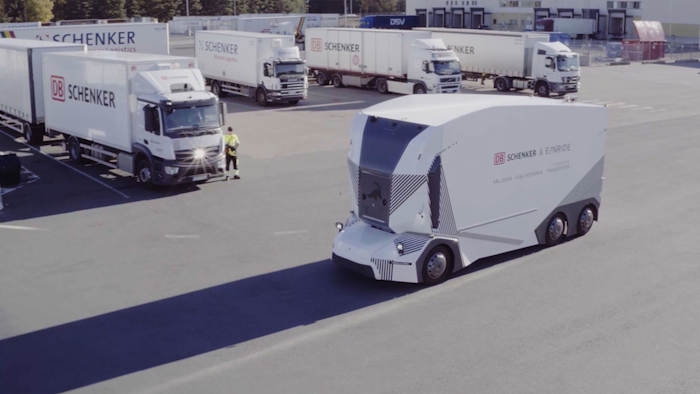 Einride
A Swedish startup this week announced the world's first journey made by a cab-less, electric truck on a public road.

Einride's T-pod truck will transport goods between a warehouse and terminal at a facility in Jönköping, Sweden, operated by German logistics company DB Schenker.

The companies, which formed their partnership just more than one year ago, said the trucks will be able to operate around the clock while cutting vehicle emissions. Einride reportedly hopes the truck will be the first of 200 to be in operation by the end of next year.

"We have now introduced autonomous, fully electric trucks to a continuous flow on a public road — a milestone in the transition to the transport system of tomorrow," DB Schenker CEO Jochen Thewes said in a statement.

The companies installed the T-pod at the Jönköping facility late last year, but the pilot program was not cleared by Swedish authorities until March.

The vehicle can be monitored and operated remotely, and a fleet of T-pods can be coordinated with an intelligent routing systems. The companies said eliminating the cab reduced costs and energy consumption while increasing loading capacity and operational flexibility.

The debut T-pod is restricted to an industrial area "between a warehouse and a terminal."

Robert Falck, Einride's CEO and a former executive at Volvo, told Reuters that the company is talking with suppliers to help bolster production and deliveries, and eventually hopes to partner with a major truck manufacturer.

The company has, to date, received orders from Germany grocery chain Lidl, Swedish parcel delivery company Svenska Retursystem and five major global retailers, according to the report.