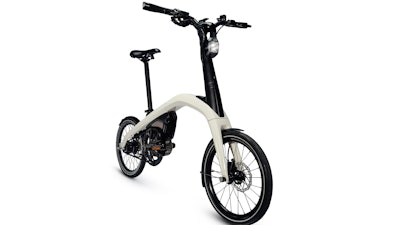 GM
The nation's largest automaker last week announced plans to incorporate two-wheeled vehicles into its product lineup in 2019.

General Motors unveiled two versions of a bicycle — a compact version and one that can be folded over — powered by a proprietary drive system that officials said would be both "small and powerful."

GM and other global automakers are increasingly investing in electric power systems in hopes of addressing concerns about vehicle emissions, but the company said the eBikes would particularly appeal to urban commuters as cities grow more crowded.

"We blended electrification engineering know-how, design talents and automotive-grade testing with great minds from the bike industry to create our eBikes," Hannah Parish, GM's Urban Mobility Solutions director, said in a statement.

The bikes will also feature connected technology and rechargeable LED safety lights for both the front and rear.

The company plans to sell them beginning next year — under a brand name to be chosen from crowdsourced suggestions early next year. The automaker invited participants to suggest potential names by Nov. 26; the winner will receive $10,000, while nine runners-up will get $1,000 each.