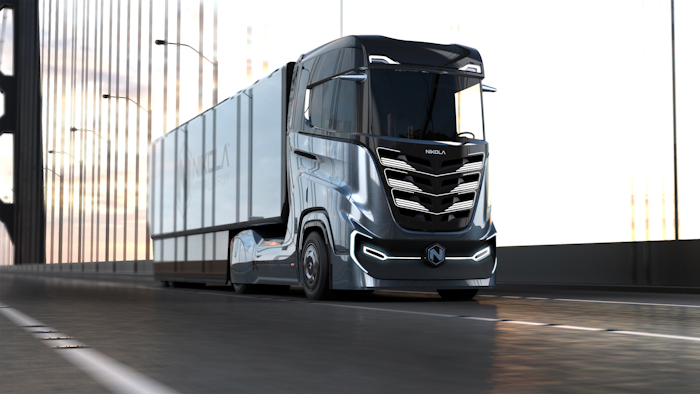 Nikola Corp.
Nikola this week announced plans to enter the European truck market with the unveiling of a hydrogen fuel cell hybrid semi-truck.
The Utah-based zero-emission trucking startup said the Nikola Tre will provide a range of 500 to 1,200 kilometers, depending on the options included. The company expects to begin testing the truck in Norway in 2020 and begin production two to three years later — roughly coinciding with the debut of its U.S. counterpart.
The company began accepting reservations from prospective European customers as of Monday.

"This truck is a real stunner and long overdue for Europe," founder and CEO Trevor Milton said in a statement.
Nikola officials said the Tre would feature 500 to 1,000 horsepower and configurations of 6x4 or 6x2. Milton said it would be the first zero-emission truck in Europe to offer redundant braking, steering, 800 Vdc batteries and a redundant 120 kW hydrogen fuel cell — "all necessary for true level 5 autonomy."
The company plans to implement hydrogen fuel stations in Europe starting in 2022 and cover "most of the European market" with them by 2030. Nikola is currently working with Norwegian firm Nel Hydrogen to bring fueling stations to North America, where the company is currently taking reservations for the Nikola Two hydrogen hybrid.
Prototypes of both hybrid models will be on display at its conference in Phoenix next spring. The company's initial truck, the Nikola One, was announced in 2016.
Nikola also said this week it is "in the preliminary planning stages" of determining where to build a factory in Europe. The company is building its U.S. factory in Arizona.