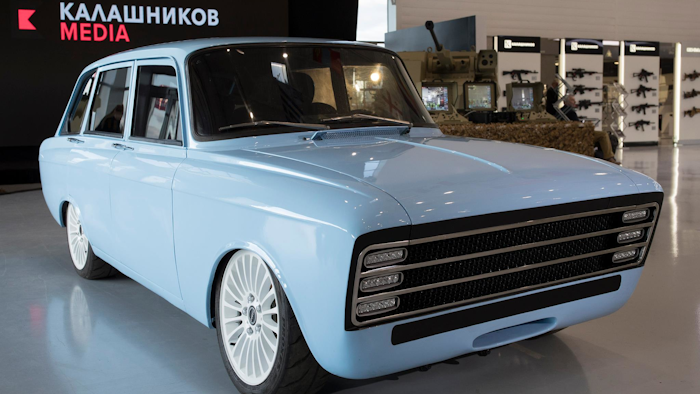 Concern Kalashnikov (Facebook)
A Russian industrial giant famously known for its assault rifles evidently hopes to make its mark in the automotive sector was well.

Concern Kalashnikov — the arms manufacturer that bears the name of the inventor of the AK-47 — last week unveiled a prototype electric vehicle that it says has a range of about 217 miles per charge.

The CV-1 can also go from zero to 60 miles per hour in about six seconds, and although additional details were limited, officials touted the vehicle's use of "several original systems developed by the concern."

"This technology will let us stand in the ranks of global electric car producers such as Tesla and be their competitor," the company said, according to state-owned media quoted by Agence France Presse.

Broader public reaction to the prototype, however, was reportedly quite different. Unlike the sleek, modern designs that fill Tesla's showrooms, the CV-1 mirrors the Izh-Kombi, a hatchback made under the Soviet regime some 40 years ago.

Although the announcement also reflects Kalashnikov's ambitions in a variety of consumer goods, no production or sales plans were disclosed and a commercial debut appears to be far from a sure thing.