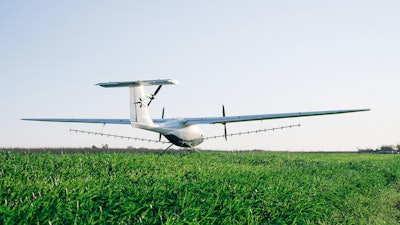 Pyka
Pyka, manufacturer of large-scale highly-automated electric aircraft for crop protection and cargo transport, said it has received approval from the FAA to operate its Pelican Spray aircraft for crop protection commercially nationwide. With a gross weight of 1,125 lbs, Pyka said its uncrewed aircraft system (UAS) is the largest ever to receive FAA authorization for commercial operation in the United States.
In conjunction with an agricultural aircraft operator certificate, this FAA approval will enable Pyka to commence commercial operations in the United States.
With access to Pyka's fixed-wing, all-electric aerial application technology, American farmers and neighboring agricultural communities will benefit from a safer alternative to piloted spray aircraft, increased spray precision, reduced chemical usage costs, and minimized environmental impact. Pyka's Pelican Spray aircraft is the world's largest agricultural spray drone and is already operational on farms in Costa Rica, Honduras, and Brazil. It can carry up to 540 pounds (70 gallons) of liquid and spray up to 240 acres per hour.