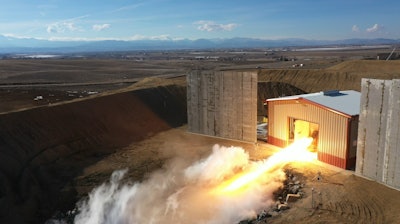 Ursa Major
Ursa Major, a privately funded company focused solely on rocket propulsion, today announced a milestone in the development of its redesigned "Ripley" rocket engine: successful hotfire tests. The test campaign showed the integrated Ripley engine—including turbomachinery, oxidizer-rich preburner, and additive-manufactured copper thrust chamber assembly—firing as a complete system in flight-like conditions.
The company said Ripley has the highest "Specific Impulse," or Isp, a measurement of fuel economy, of any American kerosene rocket engine in history.
"This hotfire test campaign is a critical milestone for Ripley as we move into full-scale development and production," said Brad Appel, Chief Technology Officer at Ursa Major. "The new 50,000-pound-thrust design is in response to growing market demand for this medium-lift thrust class."
The first iteration of the Ripley engine hotfired in 2021 with 35,000 pounds of thrust. Ursa Major increased the thrust to 50,000 pounds to better suit medium-class launch vehicles.
Ursa Major tests its engines at its facility in Berthoud, Colorado, which houses engine design, manufacturing, and testing all in one place. To date, Ursa Major engines have accumulated more than 60,000 seconds of run-time.
Unlike other propulsion systems, Ursa Major engines are designed to be used on multiple vehicles and for various use cases, creating efficiencies that help customers get to launch faster without relying on foreign-made technology or incurring the high cost of building engines in-house.