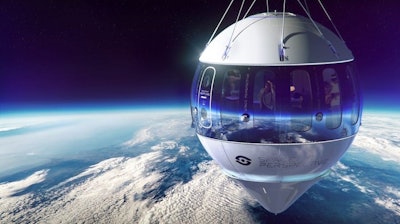 Space Perspective
Cruise Planners is working with Space Perspective to offer their clients a chance to go to space.
Cruise Planners has reserved two full capsules scheduled to fly in 2025 and 2027 respectively on Spaceship Neptune, developed to be the most accessible, most sustainable, and safest spacecraft. The six-hour journey takes eight passengers and a pilot to the edge of space in a pressurized capsule propelled by a SpaceBalloon.
Spaceship Neptune will differ from other spacecraft by being attached and secured to the SpaceBalloon for the entirety of the flight. According to Space Perspective, Spaceship Neptune will be lifted to space by the SpaceBalloon, powered by renewable hydrogen with no rockets and no carbon footprint. Guests will ascend steadily at 12 mph, making the experience accessible for anyone who is able to fly with a commercial airline.
The interior Space Lounge layout has been designed to maximize comfort. Passengers can take advantage of the telescope and interactive screens that share key information as the journey unfolds or celebrate with a champagne toast from the bar. Guests will be able to enjoy the view from the largest windows ever flown to space, giving Explorers 360-degree visibility. A high-speed Wi-Fi connection will be available, allowing guests to share the transformative experience with friends and family.