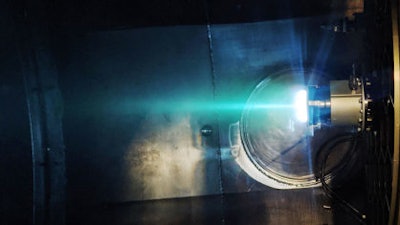 Astra
Astra Space has reached an agreement with Astroscale, a provider of satellite servicing and long-term orbital sustainability across all orbits, to provide Astra Spacecraft Engines for its space sustainability spacecraft platform, ELSA-M, that can safely and responsibly capture and retire multiple client satellites in a single mission.
The ELSA-M satellite servicer will be designed and optimized to remove multiple pieces of debris from LEO in a single orbital mission. The development of the ELSA-M commercial service is supported by the UK Space Agency and European Space Agency as part of the ESA Sunrise program.
"The Astra Spacecraft Engine's flight heritage, reliability, and scalability were critical factors in selecting Astra as we prepare our ELSA-M platform for important customer missions, and we look forward to continue building a strong relationship with Mike and his team," said Ian Vanoorschot, Astroscale's Global Head of Procurement.
"Astra and Astroscale share common values in making space sustainable," said Mike Cassidy, Vice President of Product Management. "This agreement expands our customer base to Europe, where we see growing demand in Spacecraft Engine capability."