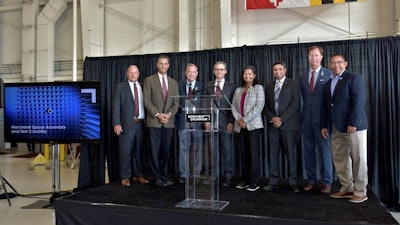 Northrop Grumman
Northrop Grumman opened its Maryland Space Assembly and Test (MSAT) 2 facility at the company's Baltimore campus. The 55,000 square foot facility provides a digitally integrated manufacturing, assembly and test hub to support customer needs and the company's growing space payload and ground systems capabilities.
"Our continued investment in Maryland helps meet our customer needs while strengthening our commitments to this community and our workforce," said Scott Lee, vice president and general manager, payload and ground systems, Northrop Grumman. "The new digitally integrated MSAT2 grows our advanced manufacturing, assembly and test capabilities as we continue to deliver end-to-end space solutions with speed and agility."
MSAT2 adds a progressive assembly line and unique testing capabilities to the integrated Maryland Space Assembly and Test complex. A central feature is a thermal vacuum chamber (TVAC).
The TVAC simulates the harsh thermal conditions of space, allowing engineers to subject space payloads to extreme temperature variations and ensure uninterrupted performance. The facility also includes advanced, digitally driven robotic manufacturing with environmentally controlled 10K and 100K class clean rooms.
"We're at the forefront of developing innovative technologies across our diverse and connected business from undersea to outer space and cyberspace," said Roshan Roeder, vice president and general manager, airborne multifunction sensors, Northrop Grumman Mission Systems. "We continue to grow and expand our workforce including digital and software engineers, technicians and related fields."