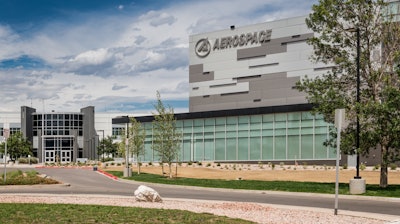 The Aerospace Corporation
The Aerospace Corporation unveiled its new Space Warfighting Center (SWC) at a ribbon-cutting celebration in Colorado Springs, Colo. The opening of this facility comes at a time when the U.S. national security space infrastructure is at potential risk from adversarial threats like jamming or destruction of satellites, the organization said.
"Developing advanced space warfighting concepts that enhance the resiliency and agility of our systems is critical to outpacing the threats we face in space," said Steve Isakowitz, Aerospace's President and CEO. "Aerospace's Space Warfighting Center provides a unique environment that leverages cutting-edge digital tools to aid our government partners as they design and support the development, training, and testing of the nation's future space enterprise."
The SWC is a $100 million, 90,000-square-foot building designed to provide laboratory space to further Aerospace's technical work. The facility will support virtual design activities across company locations nationwide.
As a nonprofit corporation operating a Federally Funded Research and Development Center (FFRDC), Aerospace serves the long-term needs of the government as an advisor for space. The company partners across government, industry, and academia to deliver solutions spanning national security, civil, commercial, and international space efforts. Working with government partners, SWC will provide modeling and simulation capabilities, and enable realistic digital training and testing environments that can:
Examine space warfighting and advanced system concepts
Educate space operators and analysts on assessing a variety of threat scenarios
The SWC augments Aerospace's core capabilities required by the government to fulfill its FFRDC mission and objectives to provide services, capabilities, and support not readily available within the government or from industry.
Currently, the Aerospace location in Colorado Springs employs 250 engineers, scientists, and analysts. The new SWC will accommodate an additional 250 employees at this location, boosting the local economic impact to a total of $100 million by the end of 2023.
"The growth of The Aerospace Corporation in Colorado Springs contributes to our global leadership in aerospace and defense," said Jim Lovewell, chief defense development officer of the Colorado Springs Chamber and Economic Development Corporation. "We're proud to have Aerospace's expertise and innovation in our community."
Aerospace employees in Colorado Springs primarily work for the company's Defense Systems Group and the corporation's national engineering technology hub, the Engineering and Technology Group. Beyond that, local Aerospace employees have volunteered nearly 500 hours to date this year and supported a variety of community projects that range from educational outreach to veterans' activities.