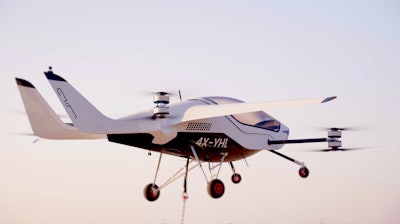 AIR
AIR said its inaugural eVTOL (electric vertical takeoff and landing) aircraft, AIR ONE, has successfully completed its first hover test after receiving its airworthiness certificate.
On June 21, the full-scale AIR ONE prototype (868kg) took flight in Megiddo in northern Israel and completed multiple hovers throughout the day and the following two weeks, safely lifting off, hovering in place, and returning to the ground, performing optimally in a stable flight envelope.
The company said all of the aircraft's systems functioned as designed, providing full control and stability. Furthermore, AIR ONE's energy use during flight was exactly as predicted, demonstrating its ability to execute expected performance metrics. AIR plans to expand to full flight envelope testing throughout 2022.
While much of the burgeoning advanced air mobility (AAM) market consists of eVTOL air taxis for commercial use, AIR allows individual consumers to use eVTOL flight for the first time as a certified, personal transportation alternative for day-to-day, short distance travel. Capable of taking off and landing on any flat surface with a 250kg payload, the all-electric two-seater aircraft offers a practical range on a single charge at speeds up to 155 mph (250 km/h).
AIR is pursuing further strategic partnerships in the U.S. and around the world to assist in the development of infrastructure and policy. The company also continues to work with the FAA to finalize vehicle certification, as well as guidelines for eVTOL pilot licensing.