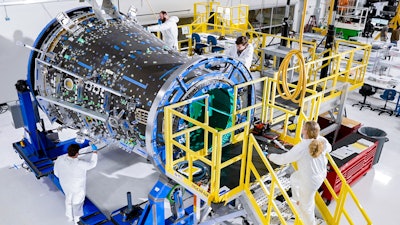 Business Wire
Sierra Space and Spirit AeroSystems have formed a long-term strategic partnership intended to accelerate access to the commercial space economy of the future.
Spirit Defense & Space will assist in the development and production of future affordable Shooting Star Transport Vehicles under a Letter of Intent signed between the two companies. The agreement also provides for the two companies to work together to develop technologies and processes to accelerate Sierra Space's expanding Dream Chaser family of scalable spaceplanes to the market.
Sierra Space is a commercial company specializing in space transportation and infrastructure for low-Earth orbit commercialization. Using Sierra Space's growing range of space transportation, infrastructure and associated technologies, the company intends to expand access to the space economy for other commercial entities and enable the discoveries and innovations of the future.
Spirit Defense & Space will work with Sierra Space to enhance accessibility and efficiency of the Sierra Space Shooting Star cargo module system to advance a family of cargo and service modules for on-orbit services. The collaboration combines the strength of Sierra Space's advanced space technology expertise with Spirit AeroSystem's renowned aerospace industrialization proficiencies.
The new partnership will design, fabricate, assemble, integrate and test affordable cargo modules for upcoming NASA missions and expand the versatility of variant designs in support of future Sierra Space cargo and service missions.
"We are very excited about the opportunity this partnership with Sierra Space represents. Spirit AeroSystems brings unparalleled value in terms of design for manufacturability and industrialization to help scale production rates on the Dream Chaser and its derivatives," said Tom Gentile, President and CEO, Spirit AeroSystems. "We look forward to joining Sierra Space on its mission to create exciting breakthroughs that enable existing businesses, entrepreneurs, researchers and governments to empower humanity to enhance life on Earth. We are grateful to Senator Jerry Moran of Kansas, who assisted with connecting our two companies to make this partnership possible."
Initially, the partnership intends to establish production efficiency and integrated assembly solutions for Sierra Space's Shooting Star cargo module, supporting resupply missions to the International Space Station (ISS) under the NASA Commercial Resupply Services 2 (CRS-2) contract.
Sierra Space's Shooting Star is a 15-foot transport vehicle that attaches to the rear of the Dream Chaser spaceplane. The module will carry up to 10,000 pounds of pressurized and unpressurized cargo, including critical science and provisions. Solar panels deliver six kilowatts of electrical power to the spacecraft, while six mounted thrusters provide Dream Chaser maneuverability.
In November 2021, Sierra Space secured $1.4 billion in capital. The Series A investment was led by General Atlantic, Coatue and Moore Strategic Ventures, with participation from funds and accounts managed by BlackRock Private Equity Partners and AE Industrial Partners. The funding is accelerating the development of the company's space transportation systems – led by the Dream Chaser spaceplane, in-space destinations for LEO commercialization, and advanced technologies and space applications.