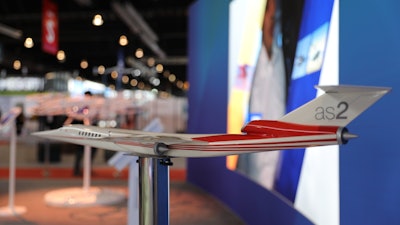 Aerion Supersonic (Twitter)
Supersonic aircraft company Aerion is moving nearly 3,000 miles east as it prepares to build its debut business jet.
The company and Florida officials last week announced plans for Aerion Park, a $300 million campus just south of Cape Canaveral in Melbourne, Fla. The complex will include a new global headquarters along with R&D, manufacturing and maintenance facilities.
Aerion, founded by billionaire Robert Bass in 2003 and currently based in Reno, Nev., unveiled its first jet, the AS2, in 2014. The company says the jet — the first privately built supersonic aircraft in the world — can carry 12 passengers at speeds of more than 1,000 miles per hour while meeting environmental standards.
The company plans to begin producing the AS2 in 2023. Officials hope to break ground on Aerion Park later this year and add at least 675 jobs in the state by 2026.
A number of the company's aerospace suppliers are also likely to set up shop along the Space Coast, officials added. Boeing is slated to contribute engineering and manufacturing to the AS2 under an agreement between the companies announced early last year.
"This is a truly transformational project for Florida that changes the game both for high speed air transportation as well for advanced aerospace manufacturing in the state," Space Florida President and CEO Frank DiBello said in a statement.