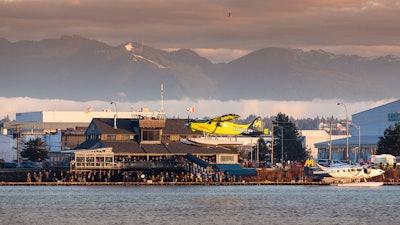 Harbour Air Ltd.
A modified seaplane this week made what organizers called the world's first commercial flight by an electric aircraft.

Greg McDougall, the founder and CEO of Canadian seaplane airline Harbour Air, piloted the maiden flight of the all-electric DHC-2 de Havilland Beaver at the company's Vancouver-area terminal Tuesday morning. The six-passenger plane features a 750-horsepower magni500 propulsion system produced by Washington state aerospace company magniX.

The companies originally announced a joint effort to develop an electric fleet of commercial seaplanes in March. Officials said Tuesday's flight marked "the start of the third era in aviation."

"Today, we made history," McDougall said in a statement. "I am incredibly proud of Harbour Air's leadership role in re-defining safety and innovation in the aviation and seaplane industry."



Harbour Air and magniX plan to begin the process of approving and certifying both the propulsion system and the retrofitting of Harbor Air's planes. The companies plan to eventually electrify its entire fleet of more than 40 seaplanes, which connect major Pacific Northwest cities to nearby coastal communities and the Whistler ski resort.