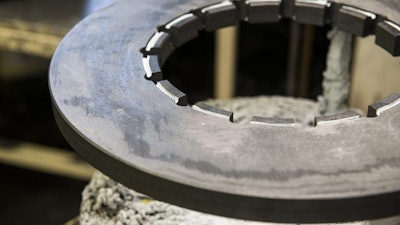 Meggitt PLC
British engineering and aerospace giant Meggitt will expand a central Kentucky plant in order to meet growing demand for carbon brakes for aircraft.
The company plans to invest nearly $83 million in the 95,000-square-foot project, state officials announced late last month. Meggitt officials said the expansion would accommodate new contracts with aircraft makers. The company currently produces brake parts for the Airbus A220 and A321, as well as planes produced by Bombardier, Dassault, Embraer and Gulfstream.
"Our order book has grown substantially in recent years and we are also witnessing a significant increase in carbon brake demand," Brian Bondarenko, the president of the company's braking systems division, said in the announcement.
The company plans to add carbon furnaces and ancillary equipment, as well as upgrade current machinery and establish a maintenance and repair hub as part of the project.
The Danville factory, which currently employs more than 200 workers, is eventually expected to add 83 more jobs through the expansion. Meggitt is eligible for more than $1.7 million in state tax incentives over 15 years if it meets hiring and compensation goals.