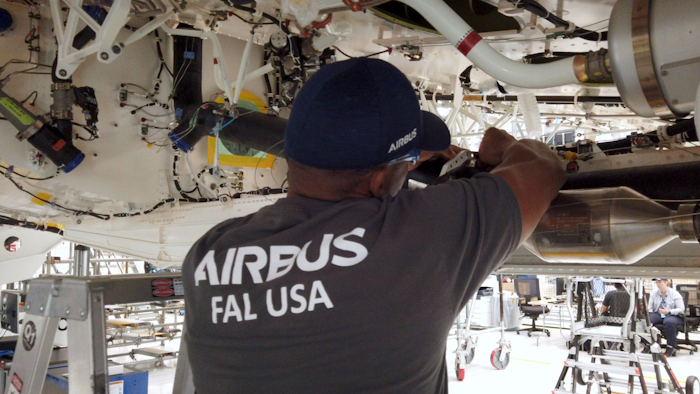 Airbus S.A.S./Tad Denson, Airwind.com
Airbus is now officially producing its new narrow-body jetliner at its facility in Alabama, the company announced this week.
Construction remains ongoing at the factory in Mobile, which started adding its second commercial aircraft production line for the A220 at the beginning of the year. The facility's current A320 operations will build its initial A220s, with the first scheduled to be delivered to Delta Air Lines in the third quarter of next year.
The debut Mobile A220 production team began its work following training at an Airbus factory near Montreal. The A220, designed to take advantage of rising demand for aircraft with seating capacities between 100 and 150, is produced in partnership with Canadian aerospace company Bombardier.
"The expansion of our commercial aircraft production in Mobile to a second product line — with 400 additional jobs to support it — further solidifies Airbus' standing as a truly global aircraft manufacturer, and confirms without a doubt that Airbus is an important part of America's manufacturing landscape," Airbus Americas Chairman & CEO Jeffrey Knittel said in the announcement.
The Mobile facility is expected to turn out as many as 50 A220s by the middle of the 2020s.