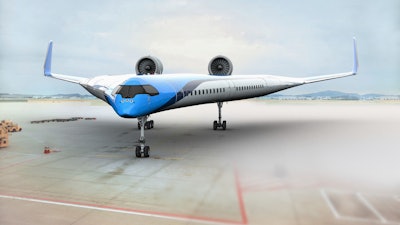 KLM
The Netherlands' flagship airline this week announced an agreement with a Dutch university to help develop a concept aircraft for more efficient long-distance flights.

Officials from KLM and Delft University of Technology signed the cooperative agreement at the IATA Annual General Meeting in Seoul. Delft researchers are investigating the potential of a design they call the "Flying-V," which reduces aircraft weight and improves its aerodynamic shape by building passenger, cargo and engine space into its wings.

The design, which roughly resembles a boomerang, features the same wingspan, passenger capacity and cargo space as an Airbus A350 — ensuring it can use conventional hangars, gates and runways — but its unique, smaller shape means it uses 20 percent less fuel than the Airbus jetliner.

Researchers noted that current plans for turbofan engines could be adapted to incorporate electrified systems.

"Our ultimate aim is one of emission-free flight," Delft Aerospace Engineering Dean Henri Werij said in a statement. "Our cooperation with KLM offers a tremendous opportunity to bring about real change."

Officials also said the novel design allows researchers to evaluate other aspects of the passenger air travel experience, from seat design to restroom layouts.

KLM plans to showcase a flying-scale model, as well as a full-size interior section, in celebration of the company's 100th anniversary in October.