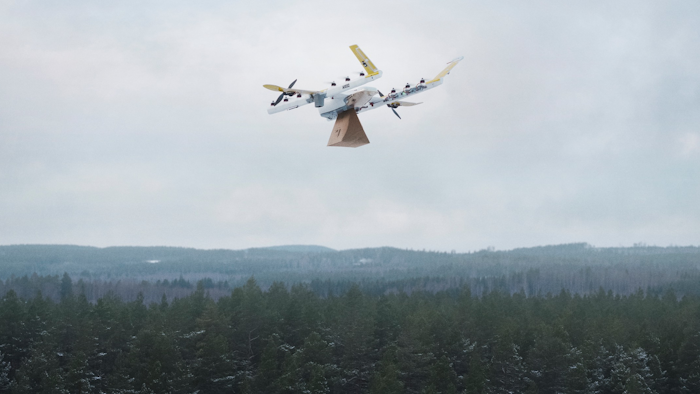 Wing Aviation LLC
A Google-affiliated drone company plans to launch the first parcel delivery service of its kind in the U.S. later this year.

The Washington Post reports that the Federal Aviation Administration certified Wing Aviation, which began as part of Alphabet's research and development arm X, as an "air carrier" — the first time a drone company has received that designation.

Because the company was certified under rules that ordinarily govern charter flights — and not under the FAA's drone regulations — Wing will be permitted to fly packages via autonomous drone beyond a pilot's line of sight.

The decision is expected to allow numerous other companies working on drone delivery systems to accelerate those efforts, but Wing officials plan to begin deliveries in and around Blacksburg, Va., where the company has conducted tests with Virginia Tech engineers, in coming months.

"This is an important step forward for the safe testing and integration of drones into our economy," Transportation Secretary Elaine Chao said in a statement.

Wing touts a lightweight, all-electric drone that can fly up to 75 miles per hour and 400 feet in elevation before delivering cargo to targets as small as a doorstep. Its traffic management system, officials added, determines the best route to take based on safety, efficiency and aviation safety requirements.

The company, which also conducted tests in California, is already making drone deliveries in Australia and recently debuted its service in Finland. Wing told the Post is it likely to explore expansion to other sites in Virginia and the U.S.

"It's an exciting moment for us to have earned the FAA's approval to actually run a business with our technology," Wing CEO James Ryan Burgess told Bloomberg.

The company, citing the potential for privacy and security concerns, plans to conduct outreach to residents and law enforcement in the Blacksburg area before the service debuts, the Post reported.