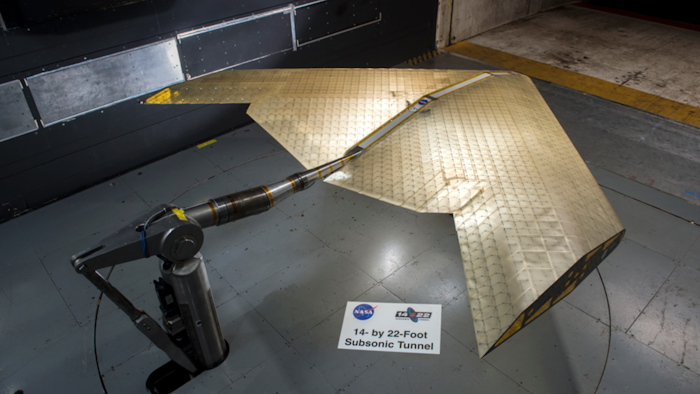 NASA
Engineers from NASA, the Massachusetts Institute of Technology and other universities believe a novel method of wing construction could potentially revolutionize the aircraft industry.

Several years after MIT researchers built a meter-long model, officials said the team constructed a roughly five-meter-long prototype — the size of a wing on a typical single-seat plane — out of hundreds of small, identical substructures.

Engineers bolted those hollow cubes of polyethylene resin together, then covered the lattice with a thin layer of polymer material. The hollow structures would allow for a much lighter and more efficient aircraft, but, more importantly, the combination of rigid and flexible materials results in a wing that could adjust its shape for taking off, cruising, turning and landing.

Conventional aircraft use ailerons and other components to adjust the wings during those processes. Although the prototype wing could also be integrated with motors and cables, the research team designed the wing so that the structure, or specific sections, automatically responds to changes in aerodynamic conditions.

"We're able to produce the exact same behavior you would do actively, but we did it passively," said Nicholas Cramer, a research engineer at NASA's Ames Research Center in California.

Engineers said an injection molding process produced the hollow substructures every 17 seconds, and although the prototype was assembled by hand, researchers said production could eventually be automated by small, simple assembly robots — itself the subject of an upcoming research paper.

In addition to altering aircraft production, researchers said the system could improve flight performance and aircraft maintenance while providing greater flexibility in jet design.

"The fact that most aircraft are the same shape is because of expense," added MIT graduate student Benjamin Jenett. "It's not always the most efficient shape."

The study was published in the journal Smart Materials and Structures.