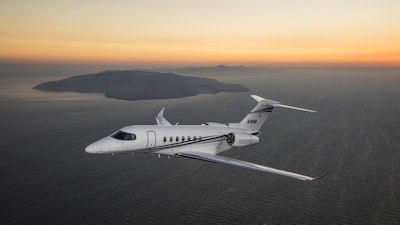 Textron Aviation Inc.
Private jet operator NetJets has agreed to buy up to 325 new Cessna jets over the next 10 to 15 years.
NetJets and Cessna's owner, Textron, announced the long-term purchase agreement Monday. The deal includes up to 175 midsize Citation Longitude planes and up to 150 large cabin Citation Hemisphere planes.
As part of the agreement, NetJets will help design the interior of a version of the Citation Hemisphere for its clients.
NetJets said it expects to take delivery of its first Citation Longitude in the second half of next year.
NetJets, which is based in Columbus, Ohio, is owned by Warren Buffett's Berkshire Hathaway conglomerate. It sells fractional ownership shares of private jets.
Berkshire owns more than 90 companies, including railroad, insurance, clothing, utility furniture and jewelry firms.