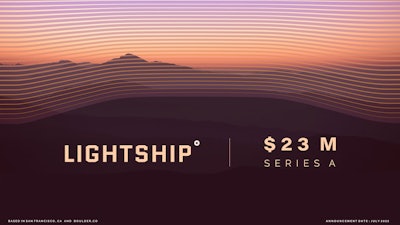 Lightship
Lightship, an all-electric recreational vehicle company co-founded by former Tesla employees Ben Parker and Toby Kraus, said it has raised $23 million in Series A funding to build its electric trailer focused boosting towing range.
The company describes its flagship RV as "designed like an EV."
"It is aerodynamic, it is all electric, the inside is modern and connected with a big, beautiful touch display and on the roof, nothing but solar," said Parker.
The funding round was led by Victoria Beasley of Prelude Ventures, who will be joining the Lightship board of directors. Existing and new investors including Obvious Ventures, Congruent Ventures, My Climate Journey, HyperGuap, and Alumni Ventures also participated in the Series A round.
"As a climate investor looking to tackle the complex and stubborn portion of greenhouse emissions coming from personal vehicle tailpipes, we're looking for opportunities to accelerate EV adoption. The recreational vehicle industry is a large market with massive opportunity for innovation; nearly 1 in 10 American households owns an RV, 90% of which are towables," said Beasley. "The reality is that clunky RVs on the market will never be reliably towable with an electric vehicle. Even for gas-powered vehicles towing RVs, the range loss of 30%+ is unacceptably high. The only way to address this is through redesigning an electric travel trailer from the ground up, focusing every decision on minimizing aerodynamic drag."